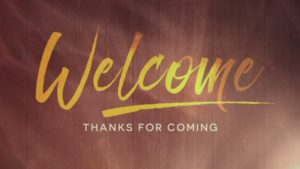 We are so excited to welcome you home as part of our church family. If you are new to the church, new to the area, or a first time visitor, we would love for you to call Living Faith your home. Below is information that hopefully will put you at ease as you visit us for the first time. It is great that you you are here!
We suggest arriving a few minutes early to check your kids in and grab a coffee from our coffee center, 15-20 minutes should give you plenty of time.
Faith Kids Classes and Adult Bible Study – 9:00 am
What can I expect if I visit?
If you want to attend a big church where you can meld into the crowd, then Living Faith is not for you. We are an average size church with people who are
friendly and welcoming without being overbearing. We are big enough to have an impact, but small enough to still feel like family.
There are two entrances to the worship area, one off the drive entering our property and one at the back facing the parking lot. Our worship begins at 10:30 am on Sundays, but you are welcome to come early to spend some time in prayer in the sanctuary before the worship begins. We have a coffee area right next to the doors that face the main parking lot,where you can find grab a cup of coffee, get information about the church, and meet members of our welcome ministry.
Some people do dress up. Others come in jeans and are less formal. We want to be comfortable without being disrespectful.
Once inside, what do I do with my children?
If you are interested in studying the Bible, we currently offer adult classes at 9:00 am on Sunday mornings along with a class for teens/college students, and two classes for young kids. Our nursery is staffed and available for babies and toddlers. We also have a mother's nursing room. Members of our welcome ministry will be more than happy to show you and your children to the appropriate rooms.
During the worship service, our kids join us during the worship time. Before the sermon, children ages three through fifth grade are welcome to go to our Faith Kids Church. The nursery and nursing room are also available during our worship service. On the third Sunday of each month the kids have their own special worship time before they go to their classes.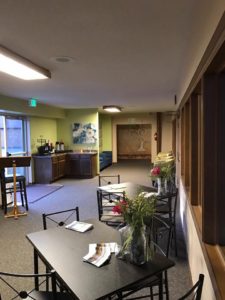 Can I bring coffee into the sanctuary?
As you enter the building you will see our coffee station where we have coffee, tea, and water available. Please enjoy your coffee and tea and you are more than welcome to bring your drink into the sanctuary for worship. We just ask that you have a top on your cup and that if you do spill your drink to let us know immediately so that we can take care of the spill.
What is your worship service like?
Our service will last around an hour to an hour and 15 minutes. Our worship music is blended with many contemporary songs along with many of the classic hymns being used. Worship is meant to be expressive, yet at other times reflective. Our goal is to be true worshipers who worship in spirit and in truth. After a time of worship, we will take an offering and then the pastor will begin teaching. Our pastor teaches from scripture with application to our daily lives. We take communion on the first Sunday of each month.
What happens after the service?
Many times people will hang around and talk with each other. Please take advantage of our foyer and have a final cup of coffee or tea. If you would like to meet the pastor, you will be able to find him in his study which is close to the sanctuary. He would love to meet with you. Oh, and don't forget to pick up your kids from the classroom and/or nursery.
How do we get to your church?
What is your address and phone number?
Living Faith Missionary Church